European Headless Gathering 2023
Welcome to the first European Headless Gathering in Denekamp,
The Netherlands,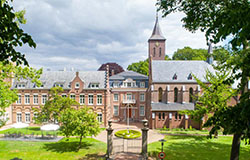 with Richard Lang, and Karin Visser and Friends.
from Wednesday 4th to Sunday 8th October 2023.
at The Sisters of Denekamp Monastery, Gravenallee 30, 7591 PE Denekamp, The Netherlands.
We're happy to announce the first European Gathering: a five day residential group to deeply explore the Headless experiments, ways to apply them in our daily lives and in our relationships with others. But above all it is a chance to enjoy the company of other Headless friends and inspire each other with our own unique insights.
GENERAL INFORMATION
We'll meet on Wednesday in time for a light meal served at 5.30 pm, but you can check in earlier in the afternoon from 3 pm on. We'll close the gathering after lunch at 12.30 pm on Sunday.
The group size will be max 25 people. The program is varied and evolves around the Seeing experiments. There will also be opportunity for sharing our experiences in large and small groups, some talks, quiet time, and free time during the afternoons and evenings to socialize together. The monastery has a beautiful cloister garden, and there are opportunities for walks in the surroundings, or borrowing one of the bikes offered by the Sisters. Possibly during an afternoon you may wish to invite others to an activity of your own choosing.
On Saturday evening we'll have Open Space for music, or storytelling, or short performances.
Our groups are relaxed and informal. Please bring comfortable clothes for inside and outside.
Costs per person are inclusive of accommodation, food, coffee and tea in the breaks, and all group sessions during the four days. The rooms are single bedrooms. Double rooms are available. Diets are possible such as vegan, vegetarian, gluten free and lactose free (please fill in your requirements on the registration form).
The price per person is €485 all inclusive.
This is based on a single room with a private bathroom. If you share a double room the price per person remains the same.
Please book early if you want to come!! There is a limited amount of places available. The closing date for registration is on September 10th.
FURTHER INFORMATION AND HOW TO BOOK
You'll find further information and the online registration link here.
After receiving this I will send you further information about how to pay. If you don't have a response to your registration within a week please contact me again at karin@headlesscafe.info
For further information please contact me by email at karin@headlesscafe.info
Looking forward to meeting you in October!
Karin