All Welcome
John Hawkins
offers an introductory online workshop each week.
When: Every Monday
Time: 8pm UK time
Content: the headless experiments adapted for an online experience.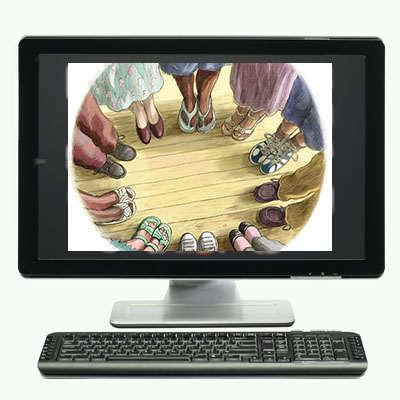 Hello, this is John. I facilitate the introductory online workshops on Mondays. I will be guiding everyone through experiments that point directly to our true nature. (By the way, you can check out the experiments beforehand on the website if you feel like it. I recommend the Pointing Experiment)
To join the group, simply click on this link at 8pm on Monday:
https://us02web.zoom.us/j/89293155206?
passcode: headless
Please be on time, or even a little early. If you are late you'll miss the very important introduction :-) Thank you.
Any questions, please email me.
FEEDBACK from previous sessions:
I just wanted to say how much I enjoyed your Zoom workshop last night; a really interesting experience.
That was a great session. Thank you!!
Thanks for the inspiring evening last night.
Last night I logged on expecting that maybe hearing them from an "expert" would somehow make the exercises more powerful. But no. What it did was emphasise how fantastically simple they are, and all the more powerful for it.
Thanks for this! What a wonderful set of exercises!
This way of being has really changed my life.
Thank you very much for sharing your experiences with us this evening. I understand it so much better now through the visual exercises you did with us. We look forward to participating in other video meetings in the future, and having fun practicing in daily life.
Thank you so much. Very refreshing, honest and kind. I can also very much relate to what you say about your experience of headlessness. So glad I found you and Richard and all the others and that we get to have these Zoom exchanges.
Thanks so much for the insight you provided today. I was hoping today would stoke my interest and continued inquiry into the headless way, and it didn't disappoint!
Thanks for the delightful introduction, I look forward to more interaction.
Thank you for the links and yesterday's workshop or rather a 'play' shop!
Thank you so much for hosting the session and showing us the experiments. It was a huge amount of fun and I've been left with a huge smile on my face, it's wonderful to share the experience.