'LOOK FOR YOURSELF' SUMMER GATHERING
A Residential Workshop to Explore The Headless Way in Everyday Life and How to Share It
Video Introduction | Offline booking Information | BOOK ONLINE NOW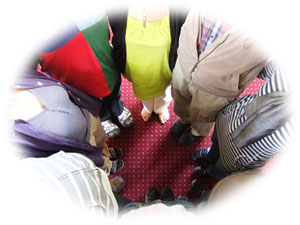 Dates for 2016:
Wednesday 20th July to Sunday 24th July -- Book Now
Please note: Standard Rooms now on waiting list for cancellations, Please contact Judy Bruce .
Plenty of Ensuite single and double rooms are still available.
FOUR DAYS IN SARUM COLLEGE, SALISBURY, UK
Ideally located within the Close, right next to the Cathedral
More people than ever are inspired by Douglas Harding, especially by his simple experiments which show us so clearly and concretely that our real nature is not what we see in the mirror. Being with other people practising this Way, exploring the meaning of the experiments together, sharing our experiences, all help us to focus on this vision; to keep it alive as an ever present resource from which to live in our everyday world: truly a 'meditation for the market place.'
So we invite you to come and celebrate this profound yet accessible insight with us...
RICHARD LANG and JUDY BRUCE and friends.
COST
The cost is fully inclusive (except travel) for workshop sessions, accommodation and food for the four days and depends on your room:
Ensuite single room £360 per person
Ensuite twin or double room £520 for two
Standard single room £260 per person (all standard rooms have washbasins, but a bathroom is shared between two or three people)
Please note: If payment is by credit card we're sorry but we must add 2% to cover transaction costs.
Please book early as the number of places is limited, especially for standard rooms. Your place will be reserved once I have received your completed booking form with full payment.
If you don't receive an acknowledgment within ten days please contact me.

Payments are refundable less £20.00 admin. charge if you cancel before final payment date, which is two calendar months prior to the first day of the Gathering.

If you have any further questions please contact me by email jmcbruce@icloud.com
or text 07801 999 123
or tel. UK(0)1792 233 580

Looking forward to meeting you again, or for the first time,
Judy
VENUE & TRAVEL
20th July to 24th July 2016
Wednesday evening to Sunday after lunch
at Sarum College, Cathedral Close, Salisbury, SP1 2EE, UK
HOW TO GET THERE:
BY CAR: from London on M3, then A303, then A338. Journey time about 2 hours. BY NATIONAL EXPRESS COACH: from London, Victoria Coach Station. Journey time about 3 hours.
BY NATIONAL EXPRESS COACH: from London, Victoria Coach Station. Journey time about 3 hours.
BY TRAIN: from London, Waterloo, departing at least once an hour. Journey time 1 hour 30 mins. It's best to book about 4 weeks in advance by internet.

BY AIR: From Heathrow: by coach to Woking (every half hour), then train to Salisbury; or train to London Paddington (every 15 mins,15 min. journey), then London Waterloo to Salisbury.
From Gatwick: towards London by train, change for Salisbury at Clapham Junction.
From Bristol it's even easier: by coach to Bristol Temple Meads railway station, then trains at least every hour direct to Salisbury.

Once in Salisbury, the College is ten to 15 minutes walk from both train and bus stations, taxicabs are available.

Arrive for supper on Wednesday and depart after lunch on Sunday.
You are welcome to stay extra days before or after the Gathering if you wish, but please book separately for this directly with the Hospitality Manager at Sarum College either by phone (0172 242 4800), by email (lc@sarum.ac.uk) or by post (Sarum College, Cathedral Close, Salisbury, SP1 2EE).
PAYMENT OPTIONS
We accept payment in GB pounds sterling only:— by credit or debit card using the secure online payment form on this website; or by £sterling cheque sent in the post; or, in exceptional circumstances and only after prior arrangement with me (Judy), by direct bank transfer.
Click here to book online via credit card

Cheque payment: (GB pounds sterling payable to SALISBURY GATHERING FUND).
Click here to download booking form.
In association with The Shollond Trust
(UK charitable trust registration no. 1059551)