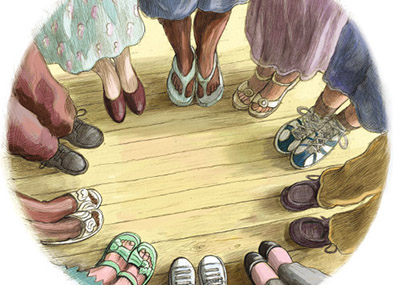 Take a fresh look at who you really are, usin
g experiments from 'The Headless Way' website. These activities are simple, profound and great fun!
'The Headless Way' website celebrates a ran
ge of awareness exercises, or 'experiments', developed by the English philosopher Douglas Harding (1909 - 2007). They originate in the commonplace observation that you cannot see your own head. The 'headless' insight challenges many of the limitations that we learn to impose on ourselves, including our capacity to respond optimistically to problems and stress. The insight can be accessed at any time - with eyes open or closed, whilst moving or still. As well as developing the experiments, Douglas Harding also wrote a number of related books, including 'On Having No Head' (one of David Bowie's 100 best reads).
Hosted by Nicky Sweetland and John Hawkins


This workshop is free of charge, all welcome. Any questions? Nicky on 07830 739373
Date: Thursday 8th November
Time: 7.30 - 8.30pm
Venue: Hamilton House
80 Stokes Croft
BRISTOL
BS1 3QY
UK